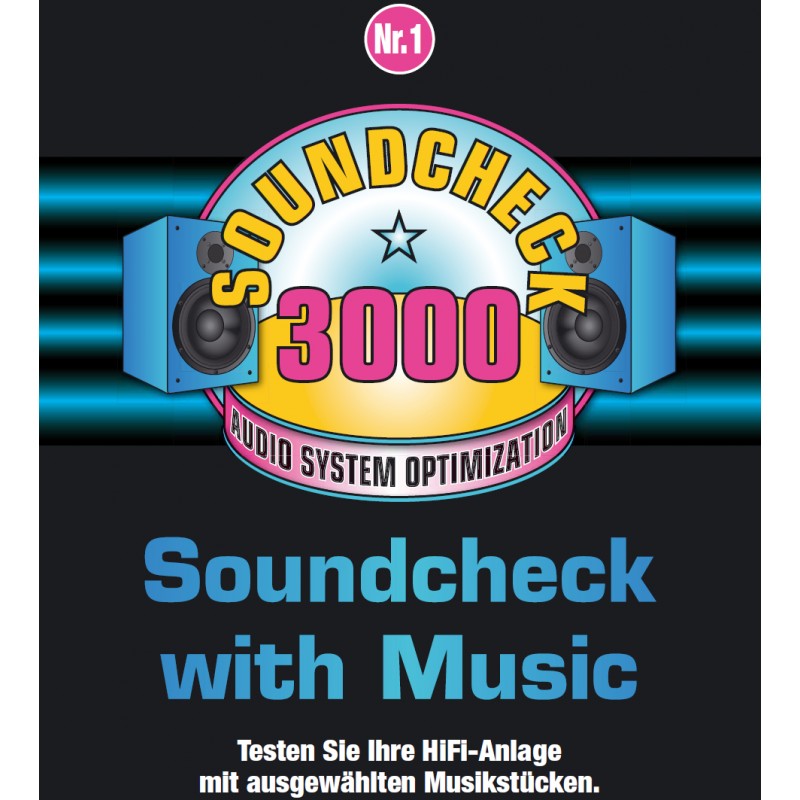  
Soundcheck 3000 - PDF Download
VAT included
Lieferzeit: 1-3 Werktage
Soundcheck3000 is a comprehensive sound test for all kinds of sound systems.
It works with Hifi systems, mobile Hifi systems, high-end systems, home cinemas, car Hifi systems, and PA systems.
You will receive the Soundcheck 3000 as a PDF booklet.
Perfekt eingestellte Soundanlagen laufen bei jeder Musikart zu Höchstform auf!
Gewünscht sind transparente Höhen, ein warmer Grundtonbereich und knackige Bässe mit einem angenehmen Tiefbassfundament.
Ebenso wichtig sind Räumlichkeit, Musikalität und Dynamik. Um Ihre Soundanlage diesem Ideal näher zu bringen und evtl. Schwächen und Fehleinstellungen aufzudecken, wurde Soundcheck3000 entwickelt. Ein Soundtest der mit Ihrem Gehör funktioniert und ganz einfach für Jedermann durchführbar ist.

Testen Sie Ihre HiFi-Anlage mit 14 ausgewählten Musikstücken.

VORAUSSETZUNG:
- Sie haben einen der gängigen Musik-Streaming-Dienste wie z.B. Spotify, Amazon Music Unlimited, Tidal, usw. abonniert
Für den "SOUNDCHECK3000 – Soundcheck with Music" haben erfahrene HiFi-Redakteure eine Playlist mit 14 speziellen Musikstücken zusammengestellt, die sich ideal für den Test Ihrer HiFi-Anlage eignen. Die Anleitung zum SOUNDCHECK3000 beschreibt Ihnen genau, worauf sie beim Hören der einzelnen Stücke achten müssen und wie Sie die Qualität des Gehörten nach einem einfachen Ampelsystem bewerten. Als Testergebnis erhalten Sie eine objektive Bewertung Ihrer Anlage.

Wir wünschen viel Spaß mit dem SOUNDCHECK3000 – Soundcheck with Music.

Sprache: Deutsch

TIPP: Legen Sie die 14 Titel als Playlist bei ihrem Streaming-Dienst an.