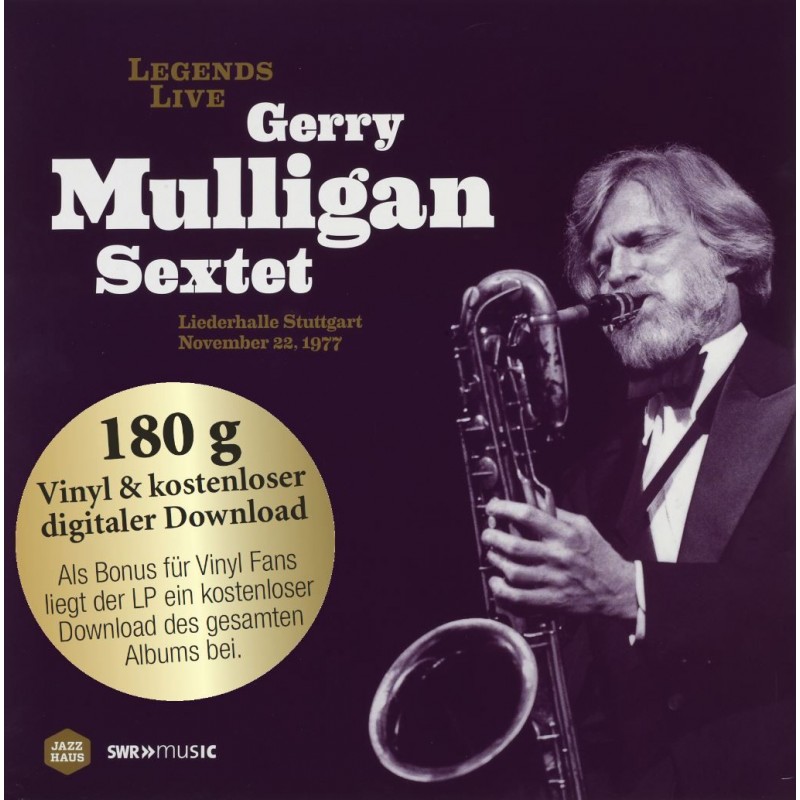  
Gerry Mulligan Sextet
Livemitschnitt aus der Liederhalle
Stuttgart vom 22. November 1977
Gerry Mulligan (bs, ss), Dave Samuels (vib),
Thomas Fay (p),Mike Santiago (g), George Duvivier (b),
Bobby Rosengarden (dr)
Laufzeit: 43:39 · Format: Vinyl
Seite A: For An Unfi nished Woman (Gerry Mulligan) 9:49
Line For Lyons (Gerry Mulligan) 6:24
Taurus Moon (Gerry Mulligan) 8:18

Seite B: My Funny Valentine (Richard Rodgers) 5:29
Four For Three (Gerry Mulligan) 6:33
K-4 Pacifi c (Gerry Mulligan) 12:34


Der diskrete Charme des Baritons
Als jüngster von vier Brüdern lebte der gebürtige New Yorker Gerald Joseph "Gerry" Mulligan schon als Teenager
an vielen Orten der USA und lernte nacheinander Klavier, Klarinette, Alt-, Tenor- und schließlich Baritonsaxophon.
Der 20-jährige konzipierte mit Gil Evans und Miles Davis 1948 die revolutionäre Nonett-Musik für Birth of the Cool.
1951 gab der schlaksige rotblonde Typ mit dem großen Conn-Bariton sein Plattendebüt und wurde in Los Angeles
Arrangeur der Stan Kenton Big Band. Mit Chet Baker formierte er ein berühmtes pianoloses Quartett und arbeitete
als Sideman bei unzähligen Sessions. Allein das Etikett "West Coast Jazz" mochte er nie: "Meine Bands hatten
überall Erfolg gehabt." 1960 stellte er die erfolgreiche Concert Jazz Band auf und begann um 1968 eine zwar
sporadische, aber lange Zusammenarbeit mit Dave Brubeck. Mit fünfzig in Stuttgart blickte er bereits auf eine fast
30-jährige Karriere zurück und wurde um die Zeit ein vielgefragter Solist sinfonischer Saxophonkonzerte. In der Liederhalle
präsentiert er sein handverlesenes Sextett. Schon der Opener For An Unfi nished Woman zeigt, dass nichts
nostalgisch gefärbt, sondern völlig zeitgemäß ist. Zwei seiner meistgespielten Themen Line for Lyons und My
Funny Valentine sind vielen Mulligan-Fans aus seinem pianolosen Quartett mit Chet Baker bekannt. 1971 schuf er
nach siebenjähriger Studioabstinenz das orchestrale Album The Age of Steam aus dem der Titel K-4 Pacifi c stammt.

Produziert von Meistern ihres Fachs
Nicht umsonst genießen die deutschen öffentlich-rechtlichen
Rundfunkanstalten ein hohes Ansehen in der ganzen Welt.
Kaum an anderer Stelle wurde und wird mit so hohen Standards
gearbeitet wie in Deutschland. Der SWR, der damals
Südwestfunk (SWF) hieß, macht da keine Ausnahme. Gerade
zu Wirtschaftswunderzeit, als der größte Teil dieser Einspielungen
entstanden ist, waren die Möglichkeiten maximal:
Geld für technische und personelle Ausstattung war reichlich
vorhanden, von beidem wurde reichlich Gebrauch gemacht.
Und darf sich der SWR rühmen, mit diesen Künstlern sowohl
im Studio als auch auf der Bühne vor Publikum Tondokumente
eingefangen zu haben, die heutzutage schlicht nicht mehr
machbar wären, weil die Produktionskosten astronomisch
wären.


Hinweis zum Versand: Ihre Schallplatten verschicken wir ausschließlich versichert, in speziellen doppelt-gefalzten Schallplattenverpackungen mit überstehenden Stoßkanten, damit Ihr Paket auf dem Weg zu Ihnen optimal geschützt ist.