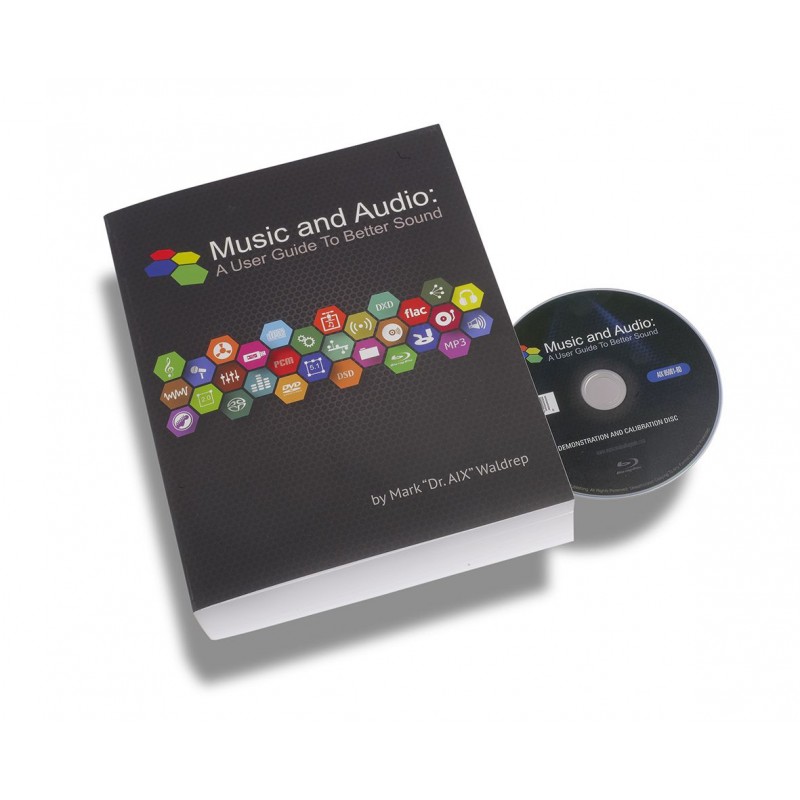  
MUSIC AND AUDIO (Buch & BluRay with HD music & test signals)
"Music and Audio" - A User Guide To Better Sound
by Mark "Dr. AIX" Waldrep
Printed book incl. demo HD music Blu-ray plus test signals
Original version in English.
WHILE SUPPLIES LAST!
Author Mark Waldrep: "As a musician, composer, recording engineer, and producer of high-res audio, I know what good sound is, and I know how to produce fantastic-sounding recordings (the Blu-ray disc that accompanies this book includes some of the best-sounding tracks ever). And I know what you need in terms of hardware and software to take your audio experience to the next level.":

Backgrounds:
- About High-End Audio: An authoritative resource for music lovers seeking accurate and unbiased information to maximize their audio experience.
- Fundamentals of Music: Dr. Waldrep has taught music theory and composition at universities for decades. Improve your understanding of music!
- Music Reproduction Fundamentals: Learn the basic principles of analog and digital music reproduction. What roles do phase, filter, distance, and acoustics play in sound? From microphones to speakers - it's all in here!
- Music Production: Mark "Dr. AIX" Waldrep has spent most of his life in studios and mastering hundreds of albums of all genres. Learn from the professional how albums are produced!
- Music Formats: Discover and compare audio formats, from analog tape, vinyl, SACD, DVD-Audio, Blu-ray, and high-res audio files. What are PCM, DSD, FLAC, and MQA?
- System Components: Several chapters on players, preamps and power amplifiers, streamers, servers, speakers, and cables provide valuable information on making purchasing decisions and how much each component should cost in relation.
- Improve Your Sound: Learn simple, effective, and inexpensive ways to improve the sound of your system and listening room dramatically!
- 300 Illustrations: The wide variety of illustrations show in a very comprehensible way how analog concepts and digital formats work, how microphones work, how the signal flows, how the mastering process works, and much more.
Includes:
880 pages
300 illustrations
Demo-Tracks: 12 tracks in high resolution, comparisons, and test tones
First publication date: January 2018
Available in English 
Content:
About the Blu-ray Demo Disc

Introduction

What is fidelity?

What is high-end audio?

Basics of music

Sound basics

PCM

DSD

Music production techniques

Music formats: From MP3 to MQA

Origins, definitions, and more

Acoustics, room, and speaker placement

Source components

Preamplifiers, AV receivers, and amplifiers

Speakers and headphones

Connecting everything: Cables

Multi-channel audio

MQA: A solution - but for what?

Tips, tricks, and scams

Meet the experts
Blu-ray Disc-Content:
12 High-Res-Tracks
Mastering-Demos
Comparison of music formats
Stereo vs. 5.1 surround mixes
Calibration- & Testtones
Tracklist:
John Gorka - Let Them In
Hanna/McEuen - Is It Only Me
Dave Mason - We Just Disagree
Alana Davis & Ernest Ranglin - My Boy Lollipop
Steve March Tormé - Lulu's Back In Town
The Latin Jazz Trio - Mujaka
James Walker and Free Flight - All The Things You Are
Laurence Juber - Guitar Noir
Chamber Music Palisades - Shastakovich - Piano Quintet Op. 57/Movement
Zephyr: Voices Unbound - It Was A Lover And His Lass
C. Mandeal - G. Enescu Phil. - Mozart - Overture To The Marriage Of Figaro
C. Mandeal - G. Enescu Phil. - Stravinski - The Firebird Suite/Finale
JMK - Prophet
Test tones:
Channel test: stereo and 5.1/7.1 surround.
Want to find out if all speakers are connected correctly? Just use the test tones on this disc. They are available in High-res PCM, Dolby TruHD, and DTS HD Master Audio.
Speaker Balance Test: test tones to find out if the balance of your speakers is correct.
It is essential that the volume of all your speakers is identical. These tones help you check stereo and multi-channel setups for this.
Speaker Phase Test: Are your speakers connected in the correct phase?
Here you will find in-phase and out-of-phase tones. This will help you make sure there are no phase shifts in your setup.
Frequency Response Test: Use these rising tones to check your entire system.
Testimonials about the Book:
"The Gold Standard" - Michael Kaufmann - Customer/Audiophile
"Mark Waldrep knows What He's Doing" - Andrew Quint - The absolute Sound
"It is positively outstanding!" - Carlo Lo Roso - Secrets of Home Theater and HiFi
"The book is amazing. Good Work. You've created what I now consider the "bible" of audio" - Zach Schwartz - Customer