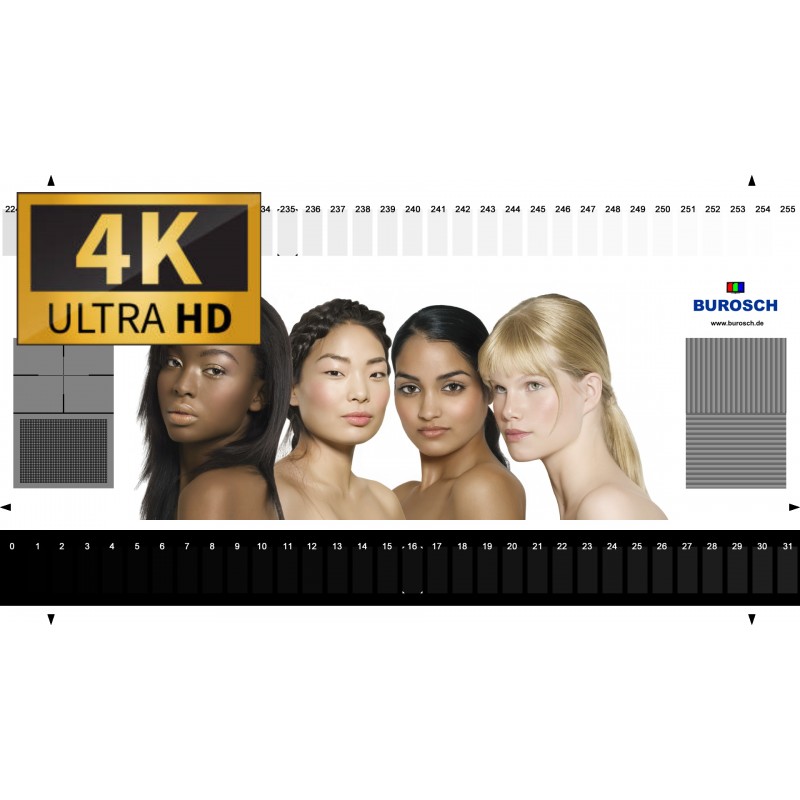  
Profi UHD-II (8K) Test Pictures + Manual - Download
VAT included
Lieferzeit: 1-3 Werktage
New edition! Now with 47 test pictures and a detailed 101-page manual in German and English!
This download is the Ultra-HD version (4K - 3840 x 2160px)
Download size: approx. 175MB

The various test pictures are the visual reference for an objective TV image assessment and exact image optimization. The correct display of our test pictures is the elementary prerequisite for perfect movie reproduction. The goal of TV image optimization is original and natural image reproduction.
With a test picture, the picture quality of your TV or projector can be objectively assessed - regardless of the film material. There's a reason why comparative TV product tests are carried out with our test pictures.
The perfect TV picture quality for Full HD and Ultra HD / UHD and 8K displays.
With the correct TV image settings, you will experience lifelike movies with natural colors, deepest black, purest white, and perfect image sharpness.
In our laboratory, we calibrate the displays for the industry with the latest measuring equipment in accordance with CIE 1931 and ITU Rec. 709/1886/2020 standards and analyze the quality of the codecs used.
Not only Sony but also LG Display, LG, and Panasonic officially work with these reference test pictures to optimize the image quality. Many companies and laboratories for comparative product tests also check the display quality with our test pictures. You, too, can benefit from our expertise.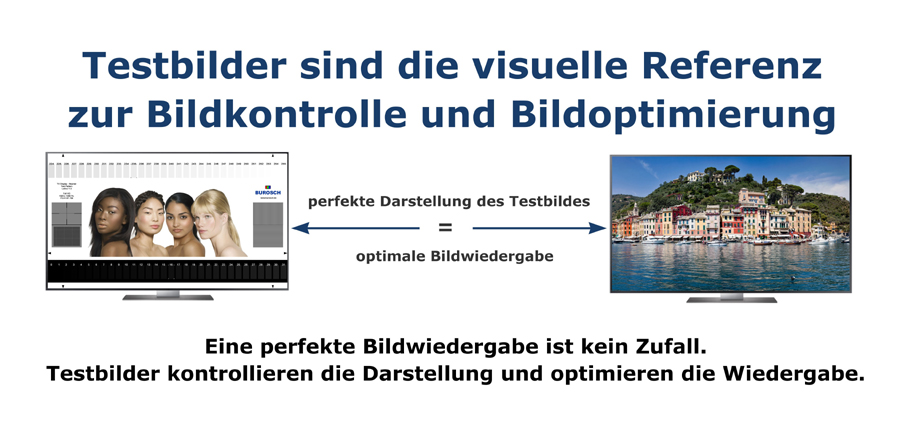 Reference test pictures for TV image control and image optimization - easy to download
Here in our store, we offer you Full HD and Ultra HD test pictures used in many test laboratories for comparative product tests. Many TV manufacturers also use these reference test pictures developed by us in development, quality control, and service.
Professional reference test pictures are the visual basis for TV image optimization - here especially for Ultra HD-/UHD/4K TVs in picture format: 16:9, Ultra HD, 3840 x 2160 Pixel., JPG
After image optimization with these professional test pictures from BUROSCH, your UltraHD TV display will show the same impressive image quality as shown here.

Basic test pictures for a first basic image setting: image format, brightness, contrast, color, and image sharpness
Universal test pictures with several functions for all basic settings at a glance
Professional reference test pictures for image evaluation and adjustment
Real photos for cross-checking the test pictures